AADE STUDENT EVENT - DRILL BOWL/POSTER CONTEST/JOB FAIR
Please join us for our AADE Appalachian Basin Student Event! This is a FREE event for students.
Please sign up for each event (drill bowl, poster contest, job fair) that you plan to attend. All students who sign up will receive a free lunch. Event though this is a free event, you must be registered in order to attend. Please make sure to include the college you attend during registration.
DRILL BOWL:
The drill bowl is a core AADE event that allows our student sections to compete and showcase their drilling and completions knowledge via the Kahoot platform. The teams of 3-4 will be at the front of the stage. Please have 6 people signed up to allow for alternates in the event a student is unable to attend. Please discuss with your student chapter in advance who will be participating in the drill bowl the day of the event. First place - $2,000. Second place - $1,500. Third place - $1,000. Fourth place - $500.
POSTER CONTEST:
Poster Contest Participants, reach out to your student liaison for an example template and for any assistance that is needed. Students can present a poster based on past internships, schoolwork, or even general overviews of the O&G industry. The same poster may be used for the SPE contest as well. The deadline for electronic poster submission will be 3/13/23. AADE will cover the cost of printing. Submissions should be sent to Jenn Doak at aadejenn@gmail.com. First place - $750. Second place - $500. Third place - $250.
JOB FAIR INFO:
The job fair will begin around 1pm and last until 3pm. Please bring plenty of resumes. The job fair will feature a casual networking environment. Do not wear a suit.... Come out and feel free to ask questions about the jobs employers have available.
Event Schedule
11:15AM Lunch - introduction - release to lunch - drill bowl begins
12:50PM - drill bowl finished
1:00PM - Job fair begins/small group industry discussions/Poster Judging begins
2:00PM - Poster Contest Ends
3:00PM - Job Fair/Showcase Ends.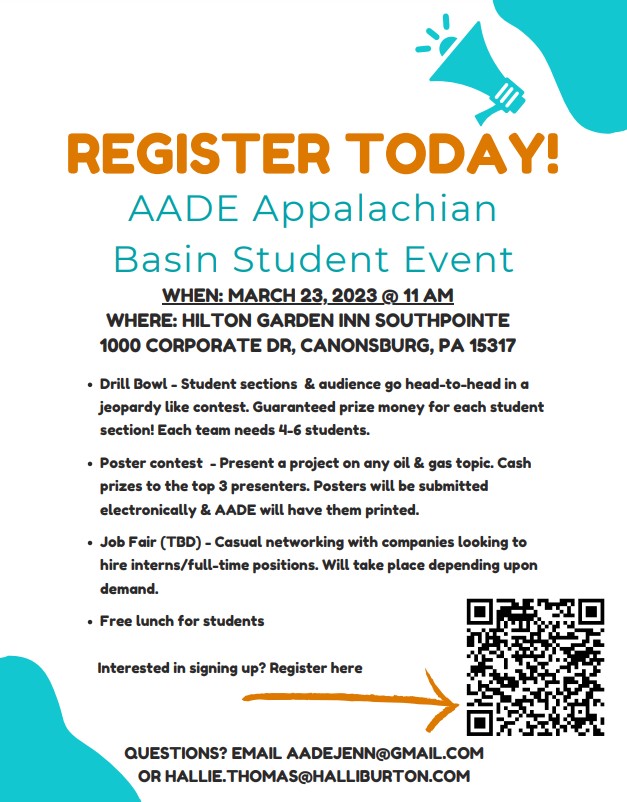 FAQs:
Can I or my fellow students still signup? Yes, you can register until 4PM on 3/16 via the link. Email aadejenn@gmail.com if you have any issues. Please share this with your fellow students as the better showing we can get, the more engagement we will have in the future with our members.
How will the job fair work?
After the drill bowl and luncheon are over, we'll have a 10 minute break and then we'll ask the employers to make their way to their tables. This event is casual and most of our employers are local field/sales people who will be able to not only take your resume, but also give you an overview of their operation, what careers look like with them, etc. It's our hope that you'll feel open to ask any questions you have directly to them. Some companies will also be showcasing some equipment.
Should I bring a resume: Yes, I would recommend bringing 20+ copies
Travel Reimbursement: Talk to your Student Section Liaison. The AADE Chapter will help to offset travel costs.
Who will be there and what jobs are available?
Our member companies are trying to fill a variety of roles in various engineering positions in both office and field environments. In addition to traditional petroleum engineering roles, AADE has worked extensively with our members to encourage them to look at petroleum engineers for a variety of positions that may have been historically reserved for electrical/chemical/mechanical engineers. These positions often allow the employee to gain extensive expertise in that field and are often very applicable and transferrable to whatever your ultimate career goals are. Additionally, AADE has encouraged our members to consider internships for students in any area of their business to help our students gain oil and gas experience during their summers. Some specific positions I know that are being hired for, frac engineers, drilling engineers, data engineers, wireline engineers, measurement while drilling engineers, etc.